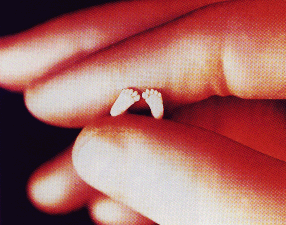 Today is the 22nd of January 2011, and in the United States, it is the anniversary of Roe Vs Wade, the Supreme Court decision that legalized abortion in the U.S in 1973.
So, I feel compelled to share this with you :
I was recently moved to tears while listening to a piece of music that my friend, composer John Bonaduce
had written. You can hear it here too
http://www.shantigarh.com/audio/13_Kingdom_Of_Heaven_hifi.m3u
The words that really struck me within the piece were :
"Let the little ones, come to me...
do not take them away
For it's to such as these that I have come
For the Kingdom of Heaven is theirs
Yes, the Kingdom of Heaven is theirs"
- Shantigarh Requiem for the Unborn.
Too many have been lost to this world. Too many tiny lives snuffed out before their laughter has had the chance to sweeten this world;
too soon before their cries of pain can be heard.
Just because they have no voice in this world, doesn't mean that they never existed...and too many people have made the mistake of thinking
that a precious life such as that of the smallest of us, in the warm, cozy womb of his or her mother...too many have made the mistake that
just sweeping that life away would be the be all, and end-all, that it is a mere inconvenience, to be gotten rid of...
It pains me, especially when I see the beautiful, sweet, smiling innocent face of my daughter, and imagine how many Claires have not been given
a similar chance at life. How many whose precious lives have ended too soon, without ever being acknowledged that they were even here.
Abortion is the greatest crime against our humanity.
It wounds not only the innocent victim,
but also that of the baby's mother, and the whole human family.
The blood spilt can never be put back to where it was meant to be.
And now as a mother, knowing the joy of the laughter, smiles and cuddles shared with my precious daughter, I am so saddened
that those who are lost to abortion
will never ever be able
to bring that joy to their parents lives (or adoptive parents)
and that this joy has been robbed from the world.
Why does God permit such evil?
It is us who bring the evil upon ourselves.
We have only ourselves to blame.
We are our brother's, our sister's keeper.
If we do not speak up for the least, the smallest, the most innocent,
the most silent of our brothers and sisters, who will?
Everyday, women all around the world go into abortion clinics
without fully understanding,
without truly knowing the evil that they partake in
And until they do,
we can only say, as Jesus did from the cross :
"Father, forgive them for they know not what they do."
Post-script
:
For those of you in L.A, there is an annual Mass for the Unborn at the Cathedral of Our Lady of The Angels.
This year, the mass will be on Saturday, the 22nd of January @ 6 p.m. You can read more about this at the link below.
http://ojp.la-archdiocese.org/news/story.php?newsid=1212
Here is the website where you can listen to and purchase sheet music for the beautiful piece 'Kingdom of Heaven', a piece which moved me to tears.
Scroll down the song list till you see 'Kingdom of Heaven' and you can listen to the whole song by clicking on the red words 'MP3 play whole song'
http://www.shantigarh.com/music.html
The NYtimes recently featured "Behind the Scenes : Picturing Fetal Remains" in their photography blog 'LENS'.
It is a thought provoking piece of photojournalism, and one done with sensitivity. I encourage you to read it, and check out the link on baby Malachi.
http://lens.blogs.nytimes.com/2009/10/09/behind-19/
Another interesting story on how a 21-week old baby reaches from the womb to grasp the hand of his surgeon, as told by the photographer who captured the moment on film :
http://www.michaelclancy.com/story.html
How you can make a difference
....pray, that the truth will prevail and open hearts to choose life and love. Share the truth, so that those who perish do not do so in vain, and those who can be saved will be saved. Here's a good website for some more information and resources
http://www.priestsforlife.org/
Here's a great book I read
The Unaborted Socrates : A Dramatic Debate on the issues surrounding Abortion by Peter Kreeft
http://www.amazon.com/Unaborted-Socrates-Dramatic-Surrounding-Abortion/dp/0877848106
Is abortion a woman's right? When does human life begin? Should we legislate morality? What would happen if the Socrates of old suddenly appeared in modern Athens? Peter Kreeft imagines the dialog that might ensue with three worthy opponents--a doctor, a philosopher and a psychologist--about the arguments surrounding abortion. Kreeft uses Socratic technique to strip away the emotional issues and get to the heart of the rational objections to abortion. Logic joins humor as Socrates challenges the standard rhetoric and passion of the contemporary debate.
For those who have been wounded by the scourge of abortion, here are some resources to help:
Rachel's Vineyard
http://www.rachelsvineyard.org/index.htm
Rachel's Vineyard is a safe place to renew, rebuild and redeem hearts broken by abortion. Weekend retreats offer you a supportive, confidential and non-judgmental environment where women and men can express, release and reconcile painful post-abortive emotions to begin the process of restoration, renewal and healing.
Silent No More Awareness Campaign
http://www.silentnomoreawareness.org/about/
Many women and men are realizing the abortions they were involved in years ago are the source of the physical and emotional problems they have today. The Campaign gives them a forum to help others by sharing the painful consequences of abortion. These voices of experience need to be heard so others can learn about the help that is available. They also want people who think abortion is a good solution for someone facing an unplanned pregnancy to understand the real long-term consequences their friend or loved one is likely to face in the future.