http://www.powerofpop.com/corrine-may/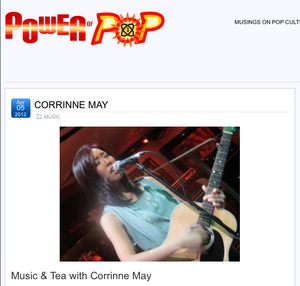 Music & Tea with Corrinne May
Corrinne May releases her 5th album Crooked Lines in Singapore, after a break of 5 years since her last album Beautiful Seed was released. She had a showcase at the Hard Rock Café Singapore in Cuscaden Road last week, the same place where about 10 years ago she had promoted her debut album Fly Away. Corrinne was accompanied by her band, including her producer/musician husband Kavin Hoo, treating her fans and the media to a night of song. She sang 5 songs from her latest album, including "Beautiful Life", a song she wrote in conjunction with the theme of the Esplanade's 10th anniversary, a 'celebration of life', and what she says is her 3-year-old daughter Claire's favourite song, "Just What I Was Looking For".
After her performance, Corrinne received a plaque from Warner Music Singapore in celebration of the more than 35,000 albums sold in Singapore to date. Her album will be made available for online sale and sale in other countries later on.
She stayed on to perform a further 2 songs, "Crooked Lines" and "Sight of Love", before starting her signing session. This was a real treat for her fans, as they had the opportunity to get close to their favourite singer. And it is clear that Corrinne is well-loved by all, as the line snaked all around the dance floor and the signing session went on for about 2 hours. People from all walks of life were there. It is clear that Corrinne's music reaches out to a wide audience, with universal themes and stories that people can relate to and make their own. Her showcase felt like one big family reunion.
The album title Crooked Lines came to her as she watched her daughter drawing with crayons one afternoon, and she seemed to be drawing what looked like random, crooked lines all over the drawing paper. And that prompted Corrinne to think, "Perhaps that's how it is in life. Life is never a journey that goes in a straight line. Just like sailing, we reach our destination with 'zig-zaggedness', with crooked lines. For truly, it's the detours of our lives, the crooked, whimsical, circular paths we take that mould and fashion us. Oftentimes, it's only in looking back at the path we've taken that we can truly appreciate why certain things had to happen in our lives, to bring us to our present circumstance."
The album is a combination of songs inspired by motherhood and by Corrinne's personal beliefs and her relationship with God. There are songs where she asks philosophical questions; songs of celebration, positivity and love; songs that reach out and have the potential to uplift anyone who listens.
Powerofpop.com had a chance to sit down and chat with the Singaporean singer-songwriter at a lovely little café in Chinatown. Our songstress was warm and friendly, as she shared some interesting tidbits with us, and shows us that she is still very much a Singapore girl.
You've just released a new album, "Crooked Lines", what is your favourite song from this album, and why?
Favourite song… well, it changes, but right now it's either "Crooked Lines", or "24 hours" – that's one that I've been humming lately. "Just What I've Been Looking For" is also one, because Claire has been singing the "nanana" to me, and Kavin has been teaching her some actions. There's this part in the song that goes, "give me a sign", so he goes like, "give me a sign" and he makes a little hand gesture, and she follows along.
You're based in LA now, why did you decide to move to LA?
After Berklee, we had one year practical training to just do what we needed to do, and a couple of my housemates and my friends were just moving out to LA. They were saying LA is the pop music capital, so I just decided to tag along and go, and see how it was like for at least one year. And then one year turned into 2 years, 2 years turned into 5 years, and now I've been over there for like 12 years, so I just stayed there and never left.
Do you have any plans in the future of maybe returning to Singapore?
Yeah, I mean we'll have to think about that once Claire turns 7. We'll have to figure out where to school her, so obviously we'll have to figure out whether here in Singapore or there in LA.
If you were made a Tourism Ambassador for Singapore, what would you say is your favourite place of attraction, and why?
I still like the Botanic Gardens, 'cos it's kind of traditional, it's green, it's nature. Like if I had to bring someone anywhere, if they wanted to take a walk, probably Botanic Gardens. Next thing would be one of the hawker centres. Love to have some food.
Speaking of food, is there any local dish that you miss when you're away?
Hainanese Chicken Rice not so much, because my husband can cook it. Yeah, he can cook very very decent Chicken Rice. I do miss the Laksa sometimes, but I heard that nowadays there's the Prima Deli packet, that you can make your own Laksa. You just can't get the Char Kway Teow and the sea hump, so I miss that. What else is there that I miss? Oh, Kaya! Actually, Kaya Toast I miss, but now there's this pretty upmarket restaurant in LA, and the lady who's a chef there, she's one of those celebrity chefs because she won some contest, and the biggest selling item on her menu is actually Kaya Toast. She was inspired by Ya Kun, she actually found out about Ya Kun, she ate the toast with kaya, and then she made her own version of it, and she's selling it for 15 dollars in the US. Basically, it's runny egg, and then she has the kaya toast, like 4 little slices of it, 4 little squares. Apparently, it's very popular in her restaurant. Her restaurant is called Streets, and Streets is basically a restaurant featuring a lot of street food from all the different places of the world, so actually our Singapore food is making a splash overseas.
What do you enjoy doing for fun?
What do I like doing for fun? Other than music? Haven't thought about that for awhile. Let's see… I like sitting in coffeehouses and just writing journals. I like taking long drives. Sometimes, I take a long drive to this place called St Andrew's Abbey, when I just want to get away from town, or just want to chill for awhile. It's this Benedictine monastery, it's actually really really cool. I just go down there and walk for a bit, attend the Mass there, chill, or maybe I'll just take a drive to somewhere that I've never explored before in LA, and just walk around, explore. I like travelling. In fact, we just took a trip to Paris in February. This is our second time, because we just wanted to use up our frequent flyer miles, so we brought Claire with us, and then we went to Mont Saint Michel, and also just stayed for about a week or two in Paris, which is really nice.
Is there a vacation place that you still dream of going to, and where would that be?
You know, I would like to go back to France again, but explore different parts, because there's something special about France that I really like. Other than that, maybe one of these days, I want to go up to Scotland or Ireland, and just explore the music, because there's something about celtic music which is very inspiring, so I want to explore that a bit more maybe.
Is that one of the reasons why there's Irish flute in your album?
Yeah, I always liked the sound of the Celtic flute, so I had to put it somewhere.
What is your most memorable experience with a fan?
There's this fan called David Gantz, he's based in Florida, he's a music teacher, and he started a course in his primary school for the kids called "The Music of Corrinne May". And so he taught them songs like "Angel in Disguise". He sent me these music videos of them singing these songs, these little 8- or 9-year-old kids, and they were performing them for a school concert. I thought that was really so sweet, that he actually teaches them what's behind the lyrics. He makes literary references to what these words mean, so that they learn a little bit about the lyrics in their English classes, and so that they learn a little bit about the music. So I thought that was one of the really sweetest things.
What drives you to continue doing what you do… making music, writing songs?
I feel I've been given this gift, this musical gift, I should make use of it, otherwise I'm not doing a good job with what I've been given. So at least I should utilize that. And also, writing songs for me has been therapeutic, it's like a musical journal. It's almost like if you're called to draw, or if you're called to do something, like bake, you feel like you have to do it. It contributes to the joy that you have in life. So I feel like that's what I've been made to do, so I should do it.
What are your musical influences for this album?
I've always liked the sound of gospel music. There's a song called "When I Close My Eyes", I wanted to have a little bit of the gospel choir in the background. Growing up I always listened to music from the '80s, I loved the music of David Foster, The Carpenters, because they're all very melody-driven. I love a good melody, so I try to put that into my songs. I've also had a lot of classical music background, so maybe that influences a little bit.
What advice would you give to an aspiring singer-songwriter?
Work on the craft of songwriting. Make sure the songs are the best that you can present. Don't write about something you don't know just to be cool. Write about what you really feel, and what you really want to share, about something that's true to yourself, and then go out and share it, and see how people react to the music, and just take it from there.
What are your plans for the future?
Write some more songs. Hoping to give Claire a brother or sister down the line… yeah, but we'll have to work on that, it doesn't come immediately.
Any parting message for your fans?

Thank you for all the support through the years. Thank you for the blessing of listening to these songs, and I hope that I'll be able to share more songs with you in the near future.
(Jeanette Chin)